WhatsApp will soon introduce a new feature, allowing users to verify their accounts via Email. This development is part of WhatsApp's ongoing efforts to stay competitive with other messaging apps by adding new features.
The feature was initially spotted on the Android beta version 2.23.24.10 and has now been added to the iOS beta version 23.23.1.77 for beta testers, as reported by WABetaInfo. The email verification feature has been under testing by the app's developers since August of this year, following the announcement that email verification would be introduced to this instant messaging app owned by Meta.
On the latest beta updates for both iOS and Android, users can add their email addresses to their WhatsApp accounts for email verification. While email verification is not a groundbreaking feature, it is a standard practice found on most social media apps. Meta is finally integrating this feature into WhatsApp, given its' status as the most widely used messaging app. Users rightly expect WhatsApp to incorporate essential features related to privacy and security, consistent with other messaging apps.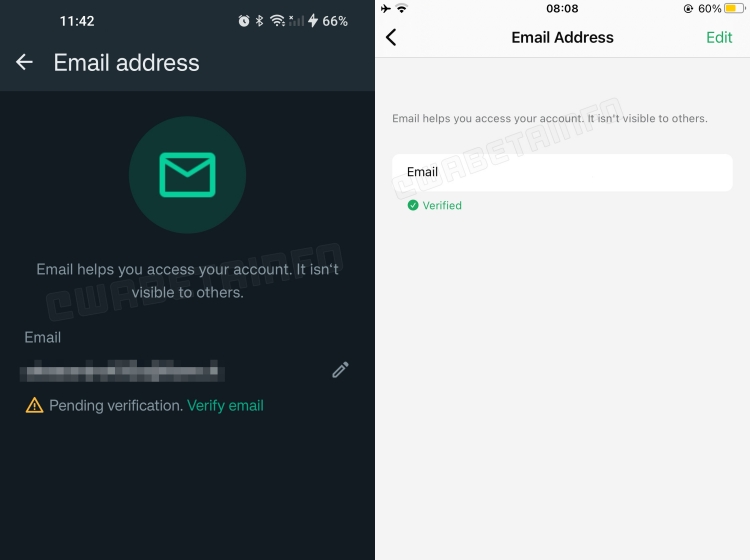 WABetaInfo has shared screenshots of the app's email verification page and from these images, the email verification process is straightforward and typical. Users are given an option to add their email addresses, accompanied by the message: "Email helps you access your account. It isn't visible to others". Once an email address is added, users will receive a verification email from Meta to confirm their account, linking their Email to their WhatsApp account.
However, it is essential to note that email verification will not replace the need for a phone number. Users will still be required to use their phone numbers to access their WhatsApp accounts, as email verification is an optional feature. Users can choose to use this feature or ignore it, depending on their preference.
Over the years, WhatsApp has made significant efforts to maintain the privacy and security of user data. All chat messages, phone calls and backups stored on Google Drive are end-to-end encrypted. The introduction of email verification takes account security a step further, offering users an additional method to receive the 6-digit verification code when logging into the app. This feature will also benefit account recovery, as many apps utilize email verification.
While this feature is crucial for social media apps, it is currently available to limited beta testers and will gradually roll out to more users. Meta has not disclosed the exact date of it's global release, but it is expected to become available in the stable version before the end of the year.
Other Trending News:-  News